THE EFFECTIVE USE & PURPOSE OF CRM INTEGRATION
CRM integration is highly oriented towards handling, and understanding the clients, and their requirements. Therefore, many sales personnel confine their answer to the question, "What is the purpose of a CRM integration?" to retaining clients. But, that's not the only purpose of a CRM. It includes attracting new customers, reducing the cost of acquisition, etc. Pitching to new clients and acquiring them is comparatively costly and a long process whereas, retaining the existing client base is cheaper. Though the conceived value of a CRM integration is less, the practical usage of CRM is more.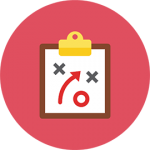 PLAN
The plan is the pillar of your CRM integration. It should be as elastic as possible such that it can adapt to all whatever changes the industry/market faces. The predefined needs act as the building materials of your plan and this emphasizes the importance of defining the needs properly. Your plans should be distinctive and should not be changed following the software's capabilities. Therefore, identify the CRM system for your needs, and don't cut down your demands for a certain software.
NEED
There should be a reason behind embedding the CRM integration system in your environment. Your needs usually consist of smaller demands of each department. Once you identify and define those targets and expectations from your CRM integration, you can expect the desired results from your CRM system. Initially, you can start using CRM systems for building client information and then work on rendering services.
TRAINING
Next is a very important step in the lot. Introducing the CRM system to its users i.e., the personnel assigned to handle the clients. For the effective use of CRM integration, the users must understand the system inside-out rather than simply following the instructions. Also, they must leverage the opportunity of assigning certain tasks to the tool through automation.
DATA QUALITY
CRM integration with clients and accumulates lots and lots of data. It is well-known that data are the essence of commercial activity/success. Therefore, personnel with more intelligence can bring in more fruitful activities. Successful results are obtained only when there is proper coordination between a human and the machine.
PURPOSE OF A CRM ON PRACTICE
To run your business successfully without any undesirable effects, you need exact answers to all your questions. Lack of exact answers will result in not making more informed decisions. CRM integration gets all the required answers to your questions on time. Some of the use cases of CRM are listed below:
With the monetary benefits, workflow improvement, automation of certain tasks, streamlining new ideas and other useful aspects, the purpose and benefits of CRM are unlimited. If you are looking for a customized CRM for your business, feel free to visit this page. Also, if you have any queries or if you are keen to discuss in detail about CRM, you can send in your queries to https://spectrum-tech.net and we will get in touch with you shortly.