RESELLER WEB HOSTING OVERVIEW
Our Managed Reseller Web Hosting plans give you time to manage your company while we manage your server accounts – hassle free. Premium network, premium bandwidth and premium support backed by our state of the art cloud hosting platform are the very foundation of great reseller hosting. Most add-ons come FREE of charge (competitors normally charge for these). Thanks to a world-class managed support team, you can enjoy 24/7/365 reseller hosting peace of mind.

INDUSTRY LEADING RESELLER HOSTING FOR AGENCIES
Reseller Hosting can be a great way for your agency to focus on your customer's needs without the hassle of server management. Packed full of premium features for no additional charge you can provide your clients with the best hosting experience possible. Small businesses such as agencies, designers, marketers and those with multiple domains, rely on our cloud backed reseller hosting because they have the bundled features most in demand. Backed by our 24/7/365 Managed Support team you can rest assured that your websites are fine and you can focus on your clients.
Want Fast Performance? All Plans are Built for Speed
Built in the Spectrum Host Georgia datacenter, we have designed our Reseller Hosting with speed in mind. Built on cPanel, backed by LiteSpeed, LSCache and Zend OpCache. We've invested more time and money to put grade A hardware and networking together, and assembled, tested and further optimized it, than competing hosts would ever dream of undertaking. We're fast – by design.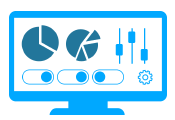 What Makes Spectrum Tech Cloud Reseller Plans ``Cloud-Based``? Everything!
We start with proper virtualization on premium hardware, then overlay CloudLinux as the operating system of choice. OpenStack and Ceph mean that we've got massively parallel cloud-based transfers across hundreds of servers, all with redundant file storage. Our virtual machines are constructed so hardware failure doesn't take you offline – things get routed around problems, all behind the scenes. We're talking state of the art technology that's optimized for industry best performance.
Need a Control Panel? All Reseller Plans Include cPanel
All Reseller Hosting packages come with cPanel and Reseller WHM access. Known for it's ease of use and wide configuration options cPanel is the best choice for your Reseller Hosting. It also makes migrations quick and painless. If you'd like, we can migrate your sites for FREE.
Demand Quick, Quality Tech Support? No One Has Better Support!
Need any technical assistance? Any time of the day or night, we'll be there for you. Support is something Spectrum Tech prides itself on so you can rest easy knowing we've got your back. In fact, our tech support team is some of the most experienced in the industry and are available 24 hours a day, 7 days a week, to take care of whatever issues you might encounter.

Prefer Performance or Dependability? Don't Worry - You'll Get Both!
We don't do the cheap ride here. We have custom built our managed cloud platform and use only the best components available, to ensure maximum performance and stability. We guarantee 99.9% uptime, but regularly deliver better than 99.99% uptime – the best on the planet!
Want Even Faster Ultra-High Reseller Performance? No Problem
Your customers, and prospects, demand a site that's quick and responsive – that's why we invest so much in high performance hardware and optimizations. We use Cloud Linux to make sure your reseller account resources aren't influenced by any other account on the server – giving you the resources you need, and paid for, on hand when you need them!
WHAT MAKES IT SO FAST ?
Because we're using OpenStack and Ceph with our reseller hosting platform, you get the benefit of distributed, parallel, file transfers. In other words, we don't just transfer one file at a time – we open the floodgates and let you transfer hundreds.









COMPARE RESELLER WEB HOSTING PLANS
NEED OTHER HOSTING SERVICES
Whatever your needs, give our sales team a shout and we'll help you find the perfect plan.

MANAGED VPS
For outstanding performance and features, this ultra high-performance hosting is amazing.

CLOUD VPS
When you need more power than a VPS can possibly offer – these are beasts.

DEDICATED SERVERS
Incredible SSD performance, yet priced to be affordable – a natural step up from reseller hosting.
SHARED HOSTING
Shared hosting to fit every budget and need.